THE COMPANY C STORY
It started with love – in more ways than one.

Founded in 1994, husband and wife team Walter and Christine Chapin started Company C in a garage behind their New Hampshire home. With Chris' passion for creating handcrafted, colorful textiles and Walter's love of business, the two embarked on an entrepreneurial journey. They let color, design and adventure lead their inspiration and have been bringing exclusive, colorful products to life and delighting customers ever since.
Company C is now a premier design studio and leading manufacturer of exceptional home furnishings, backed by more than 1,400 dealers and designers nationwide. Headquartered in Concord, New Hampshire, the company has two retail stores – a flagship store and retail outlet in Concord, and a storefront in downtown Portland, Maine in the Old Port District.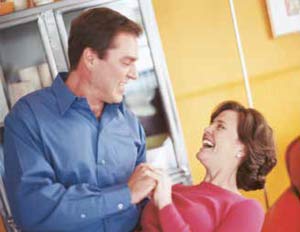 Color and Design — at the heart of everything we create.

Naturally, colorful living is reflected in everything we do – from product design, to business operations, our impact on the environment, and partnerships. We believe that quality starts with organically-inspired designs. Company C proudly supports environmental wellness. Learn more about our commitment to sustainability, ethical workplaces, and the environment. Cheerful sophistication. A colorful brand, we are happiness by design. Our mission is to inspire people to share the joys of colorful living.

Recognized for our use of saturated colors and over-scaled patterns, we encourage some risk taking when designing your home. When it comes to color and design, it's personal — especially when creating a space that you love and truly reflects who you are

Go ahead, break traditional color rules -play, experiment, and be bold. We'll distract the "color police" so you can be free to be your most creative.