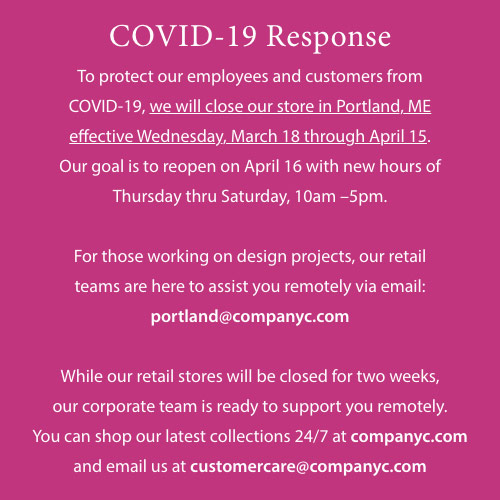 PLEASE NOTE: Our stores are temporarily closed in order to help slow the spread of COVID-19 and to minimize the impact to our staff and customers. We will remain closed until April 16, 2020.
In the meantime, we can stay in touch through our social channels, email and you can shop from home right here at companyc.com.
LOCATION:
123 Commercial Street
Portland, ME 04101
tel: 207.780.1232
toll: 888.780.1232
portland@companyc.com
SPECIAL HOURS:
Thursday - Saurdayt: 10am - 5pm
Sunday - Wednesday: Closed

Click here for directions
"Located in The Old Port, a working seaport district rich in architectural history, arts, shopping and cuisine – we love being a part of the Portland Downtown community!
In addition to our signature colorful Company C rugs, bedding, pillows and accents, we offer locally-sourced artisan home décor and gift items. And our in-house design team is here to guide you through the process of making the perfect accessory purchase for your lifestyle and unique sense of style.
With exciting new arrivals in store for spring -come by and visit us soon! We look forward to meeting you." - Katie Parish, Portland Store Manager
STORE DETAILS:
Katie Parish, Portland Store Manager

Opened October 2006

3000 square feet of selling space
Our Favorite Restaurants
Duckfat
43 Middle Street
Portland, Maine
207.774.8080
Fore Street (and Standard Baking - a must!)
288 Fore Street
Portland, Maine
207.775.2717

Even Tide on Middle Street
86 Middle Street
Portland, Maine
207.774.8538
J's Oyster
5 Portland Pier
Portland, Maine
207.772.4828
DiMillos on the Water
25 Long Wharf
Portland, ME 04101
Shopping
Motifs
221 Commercial Street
Portland, Maine
207.518.9494

Judith
3 Market Street
Portland, Maine
207.747.4778
Little (children's with Maine Made bunk beds featured)
42 Exchange Street
Portland, Maine
207.274.2100
Tree House Toys
47 Exchange St
Portland, Maine
207.775.6133
D Cole Jewelers
10 Exchange Street
Portland, Maine
207.772.5119