refine by

Rugs
Pillows
Bedding
Throws
Draperies
Shower Curtains

1' x 1' Sample

(12)

14"x 20"

(1)

16" x 26"

(1)

18" x 18"

(11)

22" x 22"

(10)

2' x 3'

(7)

2'6" x 8'

(16)

3' x 5'

(12)

3'6" x 5'6"

(2)

4' x 6'

(12)

5' x 8'

(16)

50" x 84"

(2)

50" x 96"

(2)

50" x 108"

(2)

8' x 10'

(16)

9' x 13'

(13)

Standard Sham

(5)

Standard Case-Pair

(1)

Euro Sham

(1)

King Sham

(5)

Twin

(7)

Full/Queen

(4)

Queen

(3)

King

(7)

Throw

(3)

12" x 24"

(1)

72" Long

(2)

84" Long

(2)

King Cases - Pair

(1)

One Size

(1)

$199.99 and Under

(55)

$200.00-$499.99

(23)

$500.00-$999.99

(14)

$1,000.00-$2,499.99

(13)

$2,500 and above

(2)

$89.00 - $1,995.00
$62.30 - $1,396.50
Hand hooked of 100% wool, our Passionflower rug bursts with large-scale blooms and makes a statement. This area rugs palette of blues paired with neutral shades of driftwood, ivory and gray makes the design visually pop, and creates the perfect accent to the latest interior trends. Imported.



$175.00 - $3,545.00
$122.50 - $2,481.50
Inspired by traditional Irish knits handcrafted in the Aran Islands for over a hundred years, we reimagined this hand-woven beauty for the floor. Made of 100% New Zealand wool with the same fisherman-inspired cabling you'll find on the Aran originals. Makes a warm and inviting statement for your home. Made in India.

$395.00 - $2,995.00
$276.50 - $2,096.50
Infused with spontaneity, this rug's artfully abstract pattern is inspired by, you got it, our love of doodling. Plush, cut-pile rug is hand-looped of chunky wool yarns against a tufted, Toffee-hued background. 100% wool, hooked and tufted. Made in India.

$545.00 - $2,995.00
$381.50 - $2,096.50
In a delicious celebration of the color green, gorgeous Sassafras trees with their swooping greenish yellow flowers create the perfect spot of shade for both classic and modern decor. Hand tufted, in varying shades of loop pile lends tons of texture while the beautiful, washed effect adds a sophisticated, completely unique appeal. 100% wool, hooked and tufted. Made in India.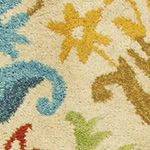 $395.00 - $2,995.00
$276.50 - $2,096.50
A true modern damask, our Hayden hand-tufted rug features a classic design in bold color, the over scaled pattern of this area rug perfect in any environment. Classic with a twist, Hayden features a signature Company C color infusion and coordinates with many palettes. Made in India.

$395.00 - $2,995.00
$276.50 - $2,096.50
The Lydia rug's field of flowers is planted in saturated, summery shades of Mango, Lime, Lemonade and Coral set off against a rich periwinkle (Indigo) ground and navy border. High-twist, washed yarns lend distinctive texture and depth. Made in India.

$395.00 - $2,995.00
$276.50 - $2,096.50
Hand tufted of pure wool, our Serendipity rug features over scaled blossoms and paisleys brought to life by high-twist wool yarns. The free-flowing pattern of this hand-made area rug is accentuated by shades of lemon, coral and watermelon on an aqua ground. Made in India.

$89.00 - $1,995.00
$62.30 - $1,396.50
Hand hooked of pure 100% wool, bold medallions cover our Lisette rug. Accented with yellows, greens, even a hint of purple, the over-scaled pattern of this area rug pops against a contrast border and enlivens any room instantly. Imported.



$545.00 - $4,295.00
$381.50 - $4,295.00
A wonderful modern geometric featuring glorious Company C color, this hand-tufted loop pile rug is the perfect complement to any style. Crafted of 100% handspun bamboo viscose for shine and elegance, this versatile rug will immediately add luxurious softness and a well-dressed feel to a special living room or bed room. Made in India.

$56.00 - $695.00
$39.20 - $486.50
The iconic paisley bandana (and Fido's favorite accessory) becomes the focal point on this delightful rug that wakes up any space-indoors or out. Hooked of 100% polypropylene yarns, the versatile rug features a mod, lattice-pattern center in cool, calming shades of aqua and driftwood. Imported.

$465.00 - $3,695.00
$325.50 - $2,586.50
Our hand-tufted Echo rug is a modern geometric rendered in subtle pastels featuring high-to-low cut and looped construction for texture. Pure wool paired with bamboo viscose for added shine and luxurious softness lend a well-dressed look to this area rug, the perfect piece for your special spaces. Made in India.

$545.00 - $2,995.00
$381.50 - $2,096.50
In a naturally soothing palette of champagne, driftwood and platinum, this breathtaking beauty captures rays of sunlight dappling through Aspen branches. The design is highlighted with high-to-low pile for a tactile, multidimensional texture. A true work of art, and a great way to bring nature indoors. Made in India.