Featured
Rugs by Size
Rugs by Pattern
Rugs by Construction
Rugs by Construction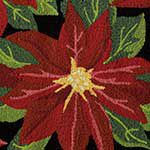 Inspired by a Company C favorite, our bold poinsettia pattern is back in fresh colors for the season. Bright pink, red and white petals pop with accents of pink, gold, and greens against a dramatic black backdrop. Hand-hooked of easy-care polypropylene, the cheerful rug is ready to dazzle the eye in any indoor, outdoor or high-traffic area. Imported.

$375.00 - $680.00
$112.00 - $186.00
Hand hooked of pure 100% wool, bold medallions cover our Lisette rug. Accented with yellows, greens, even a hint of purple, the over-scaled pattern of this area rug pops against a contrast border and enlivens any room instantly. Imported.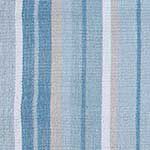 Hand woven of 100% polyester from recycled bottles, our Cirrus Stripe rug is rendered in a striking palette of cool blues, cream, and driftwood adding visual serenity wherever its needed. This area rug is at home outdoors, or in high-traffic indoor areas. Made in India.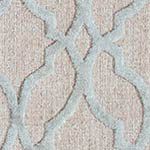 Taking its cue from vintage fabric, our Palazzo rug features a lustrous trellis design crafted of wool with a cut-pile design in luxurious viscose. Bold yet elegant, Palazzo works beautifully on its own in dressy spaces, or when paired with a complimentary foundation rug. Color: Driftwood. Content: Wool/viscose with a cotton warp. Made in India.

Nothing lends freshness to a space like stripes. Our Ticking Stripe rug is hand woven in a flat weave of 100% polyester (made of recycled plastic bottles) in glorious shades of blue and white. Great option for high-traffic areas. Made in India.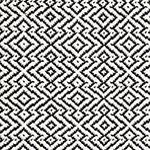 Mirroring classic tile flooring, our striking pattern in crisp black and white lends boldness and style indoors-or out. Hand-woven of 100% polyester made from recycled plastic bottles and finished with a lovely, diamond shaped, deco-inspired border. Made in India.

Create an easy, breezy, beachy look for summer with the fiesta of colorful stripes found in this flatweave rug. Bonus: the yarns are made of re-cycled plastic bottles so it's as good for the earth as it is for you.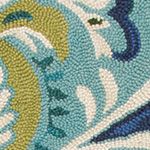 Our Adele rug is hand-hooked of pure wool, and is accented by tie-dyed yarns lending a hand-painted impression. The over scaled scrolling pattern of this wool area rug is a classic accent to any decor in a soft lake-colored palette. Imported.


Our Dandelion pure wool rug features hand-tufted construction, with accents of hand-hooked wool for texture creating a landscape of color, and a soft modern look. Made in India.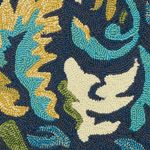 Margie is a beautiful, overscaled damask-inspired medallion colored in saturated blues and greens-perfect for seaside, poolside or patio. Imported.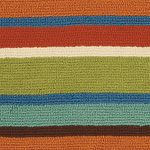 Hand hooked of durable polypropylene, our Cabana Stripe rug's cheery color palette and classic striped design accent any decor. Hand-hooked polypropylene construction makes the Cabana Stripe area rug ideal for high traffic areas indoors or out. Imported.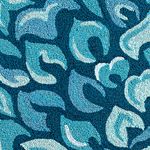 The brilliance of leaves and flowers bursting to life is sure to pack a playful punch in any setting. Rendered in an unexpected palette of persimmon and gold against a field of taupe. Imported.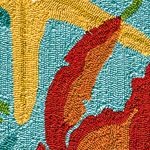 A fun underwater scene captures a playful crab and starfish in bright summer colors. Imported.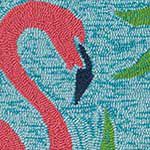 Inspired by a favorite symbol of summer, our pretty flamingos will infuse your home with a serious splash of whimsy. Drenched in pinks, greens (even a splash of navy) against a two-toned aqua background. Hooked of 100% polypropylene yarns, marled for even more textural appeal. A versatile choice for indoor or outdoor use. Imported.

$89.00 - $680.00
$29.00 - $194.00
Hand hooked of 100% wool, our Passionflower rug bursts with large-scale blooms and makes a statement. This area rugs palette of blues paired with neutral shades of driftwood, ivory and gray makes the design visually pop, and creates the perfect accent to the latest interior trends. Imported.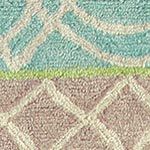 Not one, not two, but three contrasting patterns combine to equal an appealing geometric that's modern, traditional and absolutely stunning. Rendered in shades of aqua, spring green and driftwood on 100% eco-friendly jute using a lovely, loop-pile technique. The surface of this rug is "tip sheared" to create variation in the color from light to darker shades. Made in India.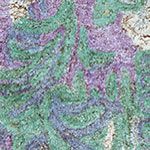 Our Marquesa rug, hand-tufted of wool and bamboo viscose, shimmers with blue, green and lavender hues. Hand made in the damask tradition with a contemporary feel, this rug is the perfect compliment to any decor. Imported.

Hand-spun wool & bamboo viscose, hand-tufted. Color: Blue.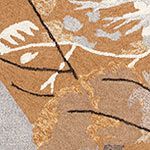 Hand tufted of variegated and mottled wool, yarns our Hickory area rug is a wonderful neutral that celebrates the splendor of nature. The design is highlighted by on-trend toffee's, greys, and black. Imported.

100% Wool, hand-tufted, loop pile. Color: Pewter.

Our High Jinks rug features colorful medallion patterns and is hand-made of pure wool. Border accent stripes are hand hooked in coordinating colors. Imported.

100% wool, hand-hooked, loop pile. Color: Multi.

$84.00 - $1,074.00
$29.00 - $350.00
A bold, graphic designed softened by an eye-pleasing dove gray. The mod Herringbone is a contemporary stunner, offering a pop of pizzazz to any space. Imported.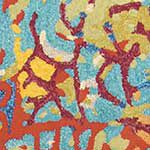 Our Melange hand-tufted area rug features an abstract over-scaled pattern and an explosion of colors. This area rug is a modern mix accented by the subtle texture of cut and loop pile construction, and a perfect addition to any living room or bedroom. Made in India.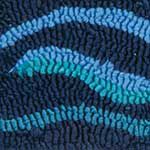 Hand-hooked of durable polypropylene yarns, our Rainbow Trout rug is a rustic nod to sporting whimsy, and ideal for any entryway. This area rug is at home outdoors, or in high-traffic indoor areas. Imported.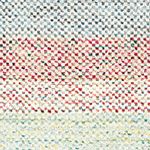 Channeling vintage samplers used to showcase color and needlepoint techniques, our striped rug is hand-loomed in a thick, loop pile to bring inviting charm home. Space dyed yarns enhance the unique color-within-color of each stripe-and bestow the versatile rug with even more visual interest. Made of wool, with a hint of nylon for strength and durability. Made in India.