Featured
Rugs by Size
Rugs by Pattern
Rugs by Construction
Rugs by Construction

$395.00 - $2,995.00
$276.50 - $2,096.50
Counters, tiles and now...your favorite rug! We created this, marvelous marbled rug as an homage to the centuries-old Venetian art of marbleizing paper (achieved via swirling paints floating in oil and water). The unique, swirling, twirling pattern blends marvelous mottled yarns in shades of blue and teal highlighted with lavender accents and a lovely, neutral gray background. Made in India.

$115.00 - $2,295.00
$80.50 - $1,606.50
A symphony of color and design. We named this rug fortissimo (translation: "to be played very loudly") then turned up the volume by using a strong geometric pattern and plenty of bold contrast from brilliant turquoise to dark navy blue. Finished with a musical note border to complete the wonderful arrangement for your home. Made of 100% jute fiber in a lovely, loop pile construction. The surface of this rug is "tip sheared" to create variation in the color from light to darker shades. Made in India.

$325.00 - $2,695.00
$227.50 - $1,886.50
Hand tufted, our Paint the Town area rug features an abstract swirling pattern accented with extra-chunky looped yarns for texture. This luxurious hand-made rug is a post-modern work of art for your floor. Made in India.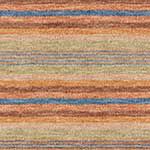 $234.00 - $1,434.00
$163.80 - $1,003.80
Our Redford Stripe rug brings a sun kissed look to vibrant stripes, in gently muted, warm spice tones. The perfect piece to help transition from room-to-room, while adding interest to your space. Imported.

Our hand-tufted Chelsea rug is a botanical beauty, designed using artfully placed flowers. Natural undyed high-twist wool creates a tweedy background and adds textural interest to this area rug. Made in India.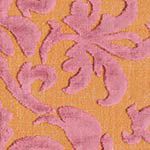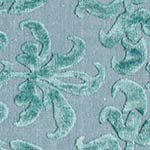 Inspired by vintage fabric, our jacquard-woven Crescendo rug features a lustrous design crafted of wool with a cut-pile design in luxurious viscose. A true study in texture and tone, Crescendo is an elegant addition to your dressy spaces on its own, or when layered with another complimenting foundation rug. Colors: Bittersweet or Lake Content: Wool/viscose with a cotton warp. Made in India.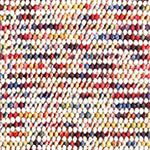 Hand woven from space-dyed and felted wool yarns, our Bon Bons rug is delicious to walk on thanks to pure New Zealand wool. Bon Bons is a versatile hand-crafted rug that creates a graphic confection of color and texture you'll find hard to resist. Yum! Made in India.

A perfect summer rug, woven with cool stripes and even cooler shades of blue. Bonus: the yarns are made from re-cycled plastic bottles so this flatweave is as good for the earth as it is for you.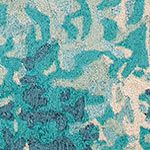 Our Looking Glass hand-tufted rug features a gradation of colors from light to dark. Hand made of bamboo viscose for shimmer and shine, this rug is luxuriously soft and designed for your dressy and special spaces. Imported.

100% Hand-spun bamboo viscose, hand-tufted loop pile. Color: Lake.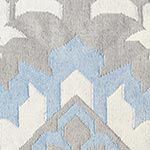 Lavish, flowing curves and ornamental inspired design embodies the style made famous by William Morris and the era of Art Nouveau. Indoors or out, this gem for the floor is a cool invitation to sit, stay and relax. Hand-woven of 100% polyester yarns, made from recycled plastic bottles that's as good for the earth-as it is for you. Made in India.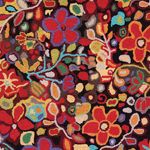 Inspired by an antique, Wendy's Garden is our hand-hooked 100% wool rug accented by dazzling flowers and vines. The dramatic black background of this area rug pops the colorful floral design for a timeless look that makes any room feel instantly updated. Imported.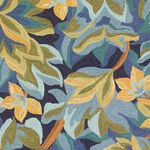 Our Avalon rug is hand-hooked of 100% wool, and has the refined look of fine needlepoint. Lushly accented with leaves and flowers set against a ground of indigo, this area rug creates a secret garden in any room. Imported.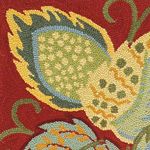 Sometimes you just need to put down your rake and marvel at Mother Nature's splendor. Create a cozy setting for any room with fanciful fall leaves scattered across a rich, chili-colored background. Imported.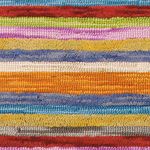 Hand tufted of 100% wool, our Jubilee rug is a kaleidoscope of color and texture. This area rug's colorful mix of horizontal stripes and subtly circular patterns is accented by strips of tufted wool felt for texture to enliven any room. Made in India.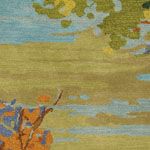 Art for the floor, our hand-made Landscape rug was inspired by an oil painting by artist Jennifer Hansen. Hand-tufted, our pure wool Landscape rug features gradations of color in the sky and trees to form a beautiful backdrop of soothing color for any room. Made in India.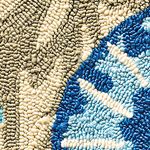 With hints of ocean breezes and salt air, these blues mixed with aqua and driftwood mingle together to create this soothing seaside view. Imported.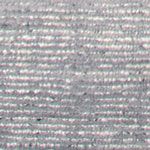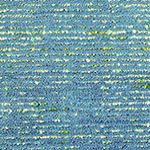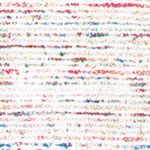 Hand loomed of pure wool and sari silk, our Sari Stripe rug is designed in striking alternating pinstripes. The ribbed effect of this variegated area rug adds texture, and because the hand-spun silk yarns vary in thickness, no two are alike. Made in India.

Inspired by traditional Irish knits handcrafted in the Aran Islands for over a hundred years, we reimagined this hand-woven beauty for the floor. Made of 100% New Zealand wool with the same fisherman-inspired cabling you'll find on the Aran originals. Makes a warm and inviting statement for your home. Made in India.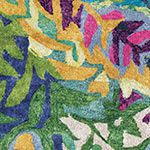 Our Galleria hand-tufted rug was inspired by dazzling murano glass. Hand made of bamboo-viscose yarns, this flowing paisley area rug is drenched in layer on layer of saturated color. Pair with our coordinating Galleria pillow. Imported.

100% Hand-spun bamboo viscose, hand-tufted, cut pile. Color: Multi.

Intricate hand-construction techniques, and pure wool mixed with viscose for shine, make our Eden rug textural heaven on earth! This luxurious area rug's hand-tufting, embroidery, cut and loop pile, and Indian Chindi creates a dimensional paisley in shades of blue, ivory, and pewter. Made in India.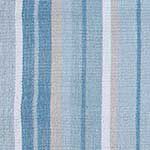 Hand woven of 100% polyester from recycled bottles, our Cirrus Stripe rug is rendered in a striking palette of cool blues, cream, and driftwood adding visual serenity wherever its needed. This area rug is at home outdoors, or in high-traffic indoor areas. Made in India.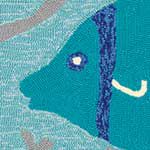 Hand-hooked of durable polypropylene yarns, Our Go Fish rug is whimsically adorned with graphically patterned fish swimming across an aqua ground. This area rug is at home outdoors, or in high-traffic indoor areas. Imported.

Merry colors and a graphic group of ornaments ring in the holidays, popping boldly against a black background. Hand-hooked of easy-care polypropylene, our Sparkle rug will enliven any indoor, outdoor, or high-traffic area. Imported.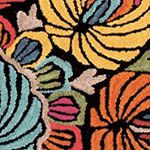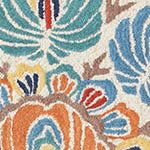 A glorious rug that draws on the artistry of traditional Hungarian embroidery, Matyo is enlivened by bold floral motifs. Hand tufted with high-twist yarns and accented with saturated colors, Matyo's style changes with your choice of two backgrounds: cream for a coastal look, or black for a folkloric feel. Finished with a charming border of multi-hued floral buds. Made in India.