Featured
Rugs by Size
Rugs by Pattern
Rugs by Construction
Rugs by Construction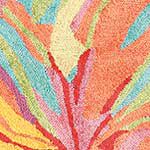 Our Petaluma jute rug is hand tufted, and features bold painterly blooms set against a ground of teal. This area rug features a dense loop-pile construction which is tip sheared for extra texture, creating a vivid and lush floral. Made in India.
For the dog lover at Christmas, our Starstruck rug features a festive palette for the holiday season and a cheerful retriever to welcome family and friends. Hand-hooked of easy-care polypropylene, this jolly rug is perfect in any indoor, outdoor or high-traffic area. Imported.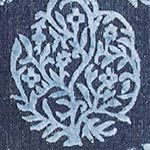 A nod to vintage fabric, our Giardino rug features a lustrous design crafted of wool with a cut-pile design in luxurious viscose. In a crisp blue palette, Giordino's medallion pattern is sophisticated on its own, or when placed with a complimentary foundation rug. Color: Indigo/Light blue. Content: Wool/viscose with a cotton warp. Made in India.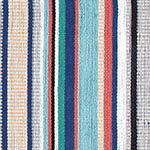 We never tire of stripes and their habit of taking charge of a space with bold, timeless appeal. Our Farmhouse rug is hand woven in a flat weave of 100% polyester (made of recycled plastic bottles) in wonderful multi-colored palette of reds, greens, blues and golds with hints of white, black and gray. A great option for high-traffic areas. Made in India.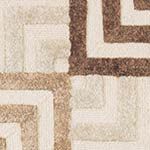 A modern masterpiece, our graphic Squared-Off rug showcases a beautiful background crafted of undyed wool in a loop-pile technique and mesmerizing square motifs rendered in viscose tufted pile for extra dimension and texture. Made in India.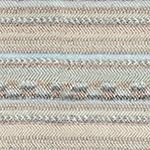 Create bold, beachy impact with our Sand Dune Rug featuring intricate weaving techniques to create textural stripes of boucle, herringbone, braid and cording. We love its seaworthy shades of warm and cool neutrals blended with gently faded clay and slate blue. Made of 100% polyester from recycled plastic bottles-a great choice for high traffic areas indoors-or out. Made in India.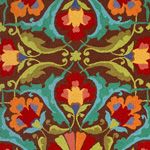 Hand hooked of pure wool, our Porcelain rug evokes the delicacy and elegance of Chinese ginger jars and hand-painted porcelain bowls. It's unusual palette and distinctive motifs make this area rug a work of art. Imported.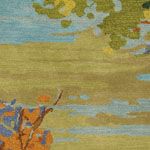 Art for the floor, our hand-made Landscape rug was inspired by an oil painting by artist Jennifer Hansen. Hand-tufted, our pure wool Landscape rug features gradations of color in the sky and trees to form a beautiful backdrop of soothing color for any room. Made in India.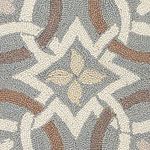 Hand hooked of 100% wool, our Sandstone rug features a subtle-yet-striking palette of pewter, ivory, driftwood and slate. This area rug's design was inspired by marble tile-work found in a Far Eastern temple and is a sophisticated accent to any decor. Imported.

$56.00 - $695.00
$24.00 - $315.00
The iconic paisley bandana (and Fido's favorite accessory) becomes the focal point on this delightful rug that wakes up any space-indoors or out. Hooked of 100% polypropylene yarns, the versatile rug features a mod, lattice-pattern center in cool, calming shades of aqua and driftwood. Imported.



$545.00 - $4,295.00
$130.00 - $1,150.00
A wonderful modern geometric featuring glorious Company C color, this hand-tufted loop pile rug is the perfect complement to any style. Crafted of 100% handspun bamboo viscose for shine and elegance, this versatile rug will immediately add luxurious softness and a well-dressed feel to a special living room or bed room. Made in India.

$395.00 - $995.00
$110.00 - $291.00
Counters, tiles and now...your favorite rug! We created this, marvelous marbled rug as an homage to the centuries-old Venetian art of marbleizing paper (achieved via swirling paints floating in oil and water). The unique, swirling, twirling pattern blends marvelous mottled yarns in shades of blue and teal highlighted with lavender accents and a lovely, neutral gray background. Made in India.