Featured
Rugs by Size
Rugs by Pattern
Rugs by Construction
Rugs by Construction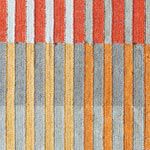 Plaiditudes! An interesting twist on classic plaid, this artistic hand-woven rug displays brilliantly-hued bands combined with various shades of grey to create a celebration of color, pattern, and modern style. Crafted of polyester yarn made from recycled plastic bottles, this must-have piece will make a statement-outdoors or in. Made in India.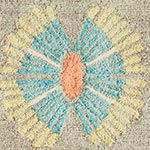 Fan Favorite. The lovely geometric pattern of this fetching rug blends bright and neutral color schemes, with orange, soft yellow, and aqua over a driftwood ground. Place it in a high traffic area to let its versatility and beauty shine bright. Hand-hooked of durable eco friendly jute in a lovely loop-pile technique. Made in India.

$115.00 - $2,295.00
$57.50 - $1,147.50
A symphony of color and design. We named this rug fortissimo (translation: "to be played very loudly") then turned up the volume by using a strong geometric pattern and plenty of bold contrast from brilliant turquoise to dark navy blue. Finished with a musical note border to complete the wonderful arrangement for your home. Made of 100% jute fiber in a lovely, loop pile construction. The surface of this rug is "tip sheared" to create variation in the color from light to darker shades. Made in India.


What's not to love about a really good check. So, we created this refreshing classic in two cool colors and a clean, streamlined four-inch square pattern that's perfect for mixing with our other prints and patterns. Hand woven in a sturdy double-back weave make this rug fully reversible. Made in India.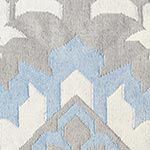 Lavish, flowing curves and ornamental inspired design embodies the style made famous by William Morris and the era of Art Nouveau. Indoors or out, this gem for the floor is a cool invitation to sit, stay and relax. Hand-woven of 100% polyester yarns, made from recycled plastic bottles that's as good for the earth-as it is for you. Made in India.

Hand-tufted of bamboo viscose, our Lotus rug features oversized blooms, a neutral palette, and brings luxurious shine to your special spaces. Soft underfoot, this area rug delivers a well-dressed look perfect for a bed room or living room. Made in India.

$89.00 - $1,995.00
$44.50 - $997.50
Hand hooked of 100% wool, our Passionflower rug bursts with large-scale blooms and makes a statement. This area rugs palette of blues paired with neutral shades of driftwood, ivory and gray makes the design visually pop, and creates the perfect accent to the latest interior trends. Imported.

Our Namaste rug is hand hooked of pure wool, and is accented by a scrolling medallion motif. The peaceful aqua ground of this wool area rug highlights the worldly design, and cheerfully greets any decor. Namaste! Imported.



$545.00 - $4,295.00
$272.50 - $2,147.50
A wonderful modern geometric featuring glorious Company C color, this hand-tufted loop pile rug is the perfect complement to any style. Crafted of 100% handspun bamboo viscose for shine and elegance, this versatile rug will immediately add luxurious softness and a well-dressed feel to a special living room or bed room. Made in India.

$395.00 - $2,995.00
$197.50 - $1,497.50
Counters, tiles and now...your favorite rug! We created this, marvelous marbled rug as an homage to the centuries-old Venetian art of marbleizing paper (achieved via swirling paints floating in oil and water). The unique, swirling, twirling pattern blends marvelous mottled yarns in shades of blue and teal highlighted with lavender accents and a lovely, neutral gray background. Made in India.

Our hand-tufted Echo rug is a modern geometric rendered in subtle pastels featuring high-to-low cut and looped construction for texture. Pure wool paired with bamboo viscose for added shine and luxurious softness lend a well-dressed look to this area rug, the perfect piece for your special spaces. Made in India.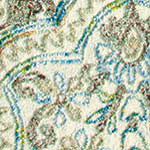 Our Agra rug is hand tufted, and features a multi-colored looped design set against an ivory background. This artisanal hand-crafted area rug is a modern interpretation of classic tapestry design, and pairs perfectly with both solids and patterns. Made in India.