Featured
Rugs by Size
Rugs by Pattern
Rugs by Construction
Rugs by Construction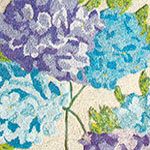 Hand tufted of wool, viscose, and bamboo viscose, our Hydrangea rug blooms bright in shades of blue and lavender with gorgeous green foliage. This hand-made rug is crafted of natural un-dyed wool, and hand tufted in a dense loop pile. Made in India.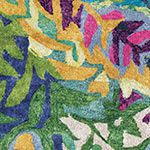 Our Galleria hand-tufted rug was inspired by dazzling murano glass. Hand made of bamboo-viscose yarns, this flowing paisley area rug is drenched in layer on layer of saturated color. Pair with our coordinating Galleria pillow. Imported.

100% Hand-spun bamboo viscose, hand-tufted, cut pile. Color: Multi.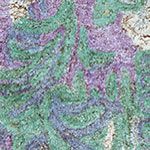 Our Marquesa rug, hand-tufted of wool and bamboo viscose, shimmers with blue, green and lavender hues. Hand made in the damask tradition with a contemporary feel, this rug is the perfect compliment to any decor. Imported.

Hand-spun wool & bamboo viscose, hand-tufted. Color: Blue.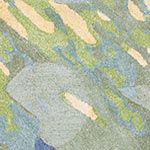 Our Reflections area rug is the winning submission to our Design-a- Rug Contest. Interior Designer Liz Hause based her triumphant design on an image she snapped from an airplane window reflecting sky, water, and the land below. Hand made of tufted and cut loop bamboo viscose pile, this rug looks three dimensional and is feels luxuriously soft. Imported.

100% Hand-spun bamboo viscose, hand-tufted cut and loop pile. Color: Multi.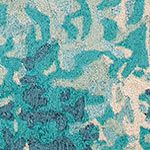 Our Looking Glass hand-tufted rug features a gradation of colors from light to dark. Hand made of bamboo viscose for shimmer and shine, this rug is luxuriously soft and designed for your dressy and special spaces. Imported.

100% Hand-spun bamboo viscose, hand-tufted loop pile. Color: Lake.

Our High Jinks rug features colorful medallion patterns and is hand-made of pure wool. Border accent stripes are hand hooked in coordinating colors. Imported.

100% wool, hand-hooked, loop pile. Color: Multi.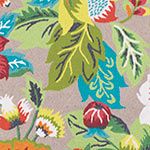 Cream of the Crop is hand-hooked in beautifully hued in shades of berry, red and orange. 100% wool, this floral rug features cottage blooms that pop off a driftwood background. Imported.

100% wool, hand-hooked, loop pile. Color: Multi.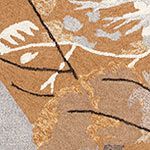 Hand tufted of variegated and mottled wool, yarns our Hickory area rug is a wonderful neutral that celebrates the splendor of nature. The design is highlighted by on-trend toffee's, greys, and black. Imported.

100% Wool, hand-tufted, loop pile. Color: Pewter.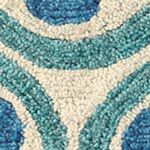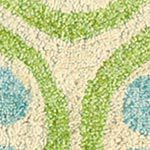 Dense hand-looped construction denotes our 100% jute Painted Medallion rug. Ideal for any climate, this area rug was inspired by a Moroccan tile and conveys the look of elegant hand-painted watercolor brush strokes to any floor. Made in India.

A modern interpretation of art history's most beloved flower explodes with color and texture thanks to five types of yarn and three distinct techniques including hand-tufting, hand hooking and embroidery. There's even a bit of bamboo yarn for a hint of shine. Quite the masterpiece to behold-and a wonderful way to bring light and color into the home. Wool and bamboo viscose with novelty yarns. Made in India.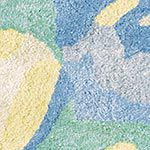 We picked the enchanting Himalayan Blue Poppy(aka a serious botanical head turner) to create this rare garden treasure for the floor. Crafted of handspun bamboo viscose yarns in a bounty of soft colors, then hand tufted to achieve the artfully subtle tones of a watercolor painting. A true beauty with a soft, shimmering and luxurious hand. Made in India.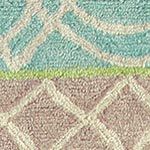 Not one, not two, but three contrasting patterns combine to equal an appealing geometric that's modern, traditional and absolutely stunning. Rendered in shades of aqua, spring green and driftwood on 100% eco-friendly jute using a lovely, loop-pile technique. The surface of this rug is "tip sheared" to create variation in the color from light to darker shades. Made in India.