Featured
Rugs by Size
Rugs by Pattern
Rugs by Construction
Rugs by Construction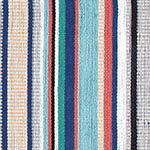 We never tire of stripes and their habit of taking charge of a space with bold, timeless appeal. Our Farmhouse rug is hand woven in a flat weave of 100% polyester (made of recycled plastic bottles) in wonderful multi-colored palette of reds, greens, blues and golds with hints of white, black and gray. A great option for high-traffic areas. Made in India.

Perfectly imperfect, our Basket Case rug is inspired by a vintage piece where each colorful stripe was crafted from an assortment of scrap fabric creating a woven border of random symmetry. Expertly hooked by hand of 100% wool, tie-dyed yarns in a basket weave pattern surrounding a botanical pattern pulled straight from an artist's sketchbook. Imported.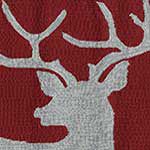 Perfect from fall through winter, our Blitzen rug's cranberry background accents the mottled gray silhouette of our noble stag. Rustic elegance made easy, and easy care. Hand-hooked of polypropylene, this trophy rug is ready to star in any indoor, outdoor or high-traffic area. Imported.

Merry colors and a graphic group of ornaments ring in the holidays, popping boldly against a black background. Hand-hooked of easy-care polypropylene, our Sparkle rug will enliven any indoor, outdoor, or high-traffic area. Imported.
For the dog lover at Christmas, our Starstruck rug features a festive palette for the holiday season and a cheerful retriever to welcome family and friends. Hand-hooked of easy-care polypropylene, this jolly rug is perfect in any indoor, outdoor or high-traffic area. Imported.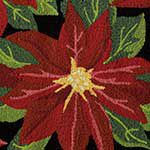 Inspired by a Company C favorite, our bold poinsettia pattern is back in fresh colors for the season. Bright pink, red and white petals pop with accents of pink, gold, and greens against a dramatic black backdrop. Hand-hooked of easy-care polypropylene, the cheerful rug is ready to dazzle the eye in any indoor, outdoor or high-traffic area. Imported.

Our hand-tufted Chelsea rug is a botanical beauty, designed using artfully placed flowers. Natural undyed high-twist wool creates a tweedy background and adds textural interest to this area rug. Made in India.

Intricate hand-construction techniques, and pure wool mixed with viscose for shine, make our Eden rug textural heaven on earth! This luxurious area rug's hand-tufting, embroidery, cut and loop pile, and Indian Chindi creates a dimensional paisley in shades of blue, ivory, and pewter. Made in India.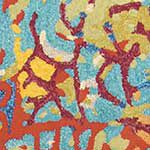 Our Melange hand-tufted area rug features an abstract over-scaled pattern and an explosion of colors. This area rug is a modern mix accented by the subtle texture of cut and loop pile construction, and a perfect addition to any living room or bedroom. Made in India.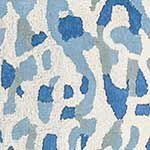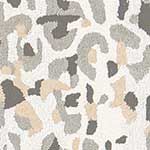 Our spot on Catwalk pure wool rug features hand-tufted construction, and on-trend animal print design in blue or gray palettes. This hand-made area rug is ombred for added dimension, and compliments many decors. Made in India.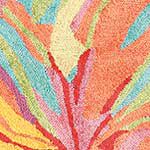 Our Petaluma jute rug is hand tufted, and features bold painterly blooms set against a ground of teal. This area rug features a dense loop-pile construction which is tip sheared for extra texture, creating a vivid and lush floral. Made in India.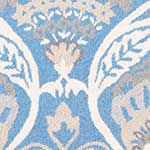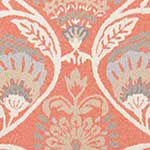 Our 100% wool hand-hooked Quinn rug is highlighted by an intricate scrolling design, and finished with contrasting damask borders in either coral or blue color palettes. This area rug is perfect for refreshing any room. Imported.