refine by

1' x 1' Sample

(65)

2' x 3'

(46)

2'6" x 6'

(2)

2'6" x 8'

(84)

3' x 5'

(58)

3'6" x 5'6"

(9)

4' x 6'

(35)

4'6" x 6'6"

(10)

5' Round

(2)

5' x 8'

(76)

6' x 9'

(10)

7' Round

(5)

8' x 10'

(76)

8' x 11'

(9)

9' Round

(4)

9' x 13'

(54)

10' x 14'

(7)

$199.99 and Under

(84)

$200.00-$499.99

(66)

$500.00-$999.99

(83)

$1,000.00-$2,499.99

(62)

$2,500 and above

(40)
Runners are great for adding protection in high traffic areas of your home. These narrow, long rugs are perfect for hallways, kitchens, staircases, front entrances, bathrooms and bedrooms. Suitable for placement on tile and hardwood, runner rugs are a stylish way to give you something comfortable, colorful and warm under foot. All of the rugs below are available in runner sizes!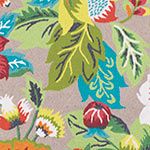 Cream of the Crop is hand-hooked in beautifully hued in shades of berry, red and orange. 100% wool, this floral rug features cottage blooms that pop off a driftwood background. Imported.

100% wool, hand-hooked, loop pile. Color: Multi.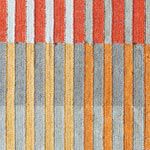 Plaiditudes! An interesting twist on classic plaid, this artistic hand-woven rug displays brilliantly-hued bands combined with various shades of grey to create a celebration of color, pattern, and modern style. Crafted of polyester yarn made from recycled plastic bottles, this must-have piece will make a statement-outdoors or in. Made in India.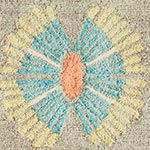 Fan Favorite. The lovely geometric pattern of this fetching rug blends bright and neutral color schemes, with orange, soft yellow, and aqua over a driftwood ground. Place it in a high traffic area to let its versatility and beauty shine bright. Hand-hooked of durable eco friendly jute in a lovely loop-pile technique. Made in India.

$115.00 - $2,295.00
$32.00 - $625.00
A symphony of color and design. We named this rug fortissimo (translation: "to be played very loudly") then turned up the volume by using a strong geometric pattern and plenty of bold contrast from brilliant turquoise to dark navy blue. Finished with a musical note border to complete the wonderful arrangement for your home. Made of 100% jute fiber in a lovely, loop pile construction. The surface of this rug is "tip sheared" to create variation in the color from light to darker shades. Made in India.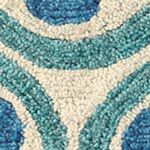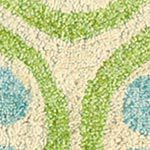 Dense hand-looped construction denotes our 100% jute Painted Medallion rug. Ideal for any climate, this area rug was inspired by a Moroccan tile and conveys the look of elegant hand-painted watercolor brush strokes to any floor. Made in India.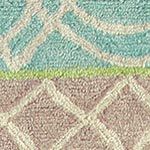 Not one, not two, but three contrasting patterns combine to equal an appealing geometric that's modern, traditional and absolutely stunning. Rendered in shades of aqua, spring green and driftwood on 100% eco-friendly jute using a lovely, loop-pile technique. The surface of this rug is "tip sheared" to create variation in the color from light to darker shades. Made in India.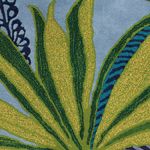 Hand-tufted using high-twist yarns and lush colors, Captiva is our tropical beauty. This hand-made area rug features an over scaled floral design and bold colors and brings an island feel to any room. Made in India.

$56.00 - $695.00
$24.00 - $315.00
The iconic paisley bandana (and Fido's favorite accessory) becomes the focal point on this delightful rug that wakes up any space-indoors or out. Hooked of 100% polypropylene yarns, the versatile rug features a mod, lattice-pattern center in cool, calming shades of aqua and driftwood. Imported.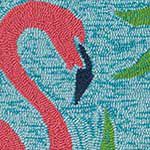 Inspired by a favorite symbol of summer, our pretty flamingos will infuse your home with a serious splash of whimsy. Drenched in pinks, greens (even a splash of navy) against a two-toned aqua background. Hooked of 100% polypropylene yarns, marled for even more textural appeal. A versatile choice for indoor or outdoor use. Imported.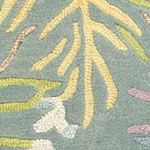 Artisanally hand tufted, our To Bay Go rug comes to textural life via chunky high-twist wool yarns and intricate embroidery. Marine flora set against a sea-colored ground on this area rug brings an under-the-sea paradise into your home, and a costal tropical feel to any room. Made in India.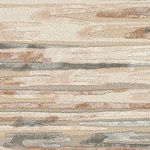 Hand tufted of pure wool and viscose, our Birch rug has an element of shimmer that captures the silvery layers of its namesake tree. Birch is a sophisticated neutral area rug with an organic striated look brought to life through high-low hand tufting. Made in India.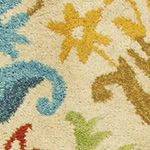 $545.00 - $645.00
$135.00 - $156.00
A true modern damask, our Hayden hand-tufted rug features a classic design in bold color, the over scaled pattern of this area rug perfect in any environment. Classic with a twist, Hayden features a signature Company C color infusion and coordinates with many palettes. Made in India.