refine by

1' x 1' Sample

(47)

2' x 3'

(4)

2'6" x 8'

(47)

3' x 5'

(31)

4' x 6'

(29)

4'6" x 6'6"

(6)

5' x 8'

(43)

6' x 9'

(6)

7' Round

(2)

8' x 10'

(43)

8' x 11'

(5)

9' Round

(2)

9' x 13'

(43)

10' x 14'

(4)

$199.99 and Under

(47)

$200.00-$499.99

(28)

$500.00-$999.99

(47)

$1,000.00-$2,499.99

(47)

$2,500 and above

(39)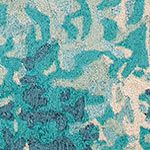 Our Looking Glass hand-tufted rug features a gradation of colors from light to dark. Hand made of bamboo viscose for shimmer and shine, this rug is luxuriously soft and designed for your dressy and special spaces. Imported.

100% Hand-spun bamboo viscose, hand-tufted loop pile. Color: Lake.

Our hand-tufted Echo rug is a modern geometric rendered in subtle pastels featuring high-to-low cut and looped construction for texture. Pure wool paired with bamboo viscose for added shine and luxurious softness lend a well-dressed look to this area rug, the perfect piece for your special spaces. Made in India.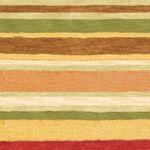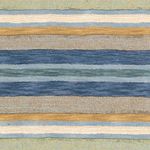 $545.00 - $2,995.00
$272.50 - $2,995.00
Our Sheffield Stripe hand-tufted area rug features alternating stripes of bold hues and subdued neutrals. Made in India.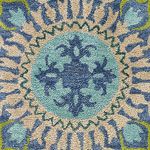 Bold and Exotic. A veritable treasure that commands attention thanks to its deliciously exotic design cues and inviting color palette of red or blue. We've washed the rug to give it a sundrenched patina. Go on kick off your shoes, you'll definitely want to linger and daydream of faraway lands. Slight variations in color of our washed rugs make each piece a work of art. Made in India.

$325.00 - $2,695.00
$162.50 - $1,347.50
Hand tufted, our Paint the Town area rug features an abstract swirling pattern accented with extra-chunky looped yarns for texture. This luxurious hand-made rug is a post-modern work of art for your floor. Made in India.

Overscale ikat- and paisley-inspired motifs lend an exotic air to this rug painted in oceanic blues. The ground is composed of variegated shades of blue subtly blended to give the effect of rippling water. The monochromatic motifs, in tufted wool enriched with texture, shade from silvery blue to cerulean to navy. Made in India.

A modern interpretation of art history's most beloved flower explodes with color and texture thanks to five types of yarn and three distinct techniques including hand-tufting, hand hooking and embroidery. There's even a bit of bamboo yarn for a hint of shine. Quite the masterpiece to behold-and a wonderful way to bring light and color into the home. Wool and bamboo viscose with novelty yarns. Made in India.

Hand-tufted of bamboo viscose, our Lotus rug features oversized blooms, a neutral palette, and brings luxurious shine to your special spaces. Soft underfoot, this area rug delivers a well-dressed look perfect for a bed room or living room. Made in India.

$395.00 - $1,995.00
$197.50 - $997.50
Hand tufted of pure wool, our Serendipity rug features over scaled blossoms and paisleys brought to life by high-twist wool yarns. The free-flowing pattern of this hand-made area rug is accentuated by shades of lemon, coral and watermelon on an aqua ground. Made in India.

Intricate hand-construction techniques, and pure wool mixed with viscose for shine, make our Eden rug textural heaven on earth! This luxurious area rug's hand-tufting, embroidery, cut and loop pile, and Indian Chindi creates a dimensional paisley in shades of blue, ivory, and pewter. Made in India.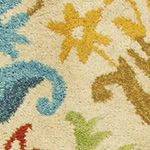 $395.00 - $2,995.00
$197.50 - $1,497.50
A true modern damask, our Hayden hand-tufted rug features a classic design in bold color, the over scaled pattern of this area rug perfect in any environment. Classic with a twist, Hayden features a signature Company C color infusion and coordinates with many palettes. Made in India.