refine by

1' x 1' Sample

(51)

2' x 3'

(4)

2'6" x 8'

(52)

3' x 5'

(32)

4' x 6'

(36)

4'6" x 6'6"

(7)

5' x 8'

(48)

6' x 9'

(6)

7' Round

(2)

8' x 10'

(47)

8' x 11'

(5)

9' Round

(2)

9' x 13'

(47)

10' x 14'

(5)

$199.99 and Under

(51)

$200.00-$499.99

(30)

$500.00-$999.99

(52)

$1,000.00-$2,499.99

(52)

$2,500 and above

(40)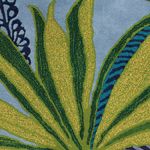 Hand-tufted using high-twist yarns and lush colors, Captiva is our tropical beauty. This hand-made area rug features an over scaled floral design and bold colors and brings an island feel to any room. Made in India.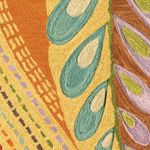 Our pure wool Art and Soul rug is hand-tufted, and a true statement piece. Multitextural, Art and Soul features hand-hooked ands embroidered elements for a stunning visual addition to any room while lending an artsy one-of-a-kind look. Made in India.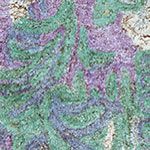 Our Marquesa rug, hand-tufted of wool and bamboo viscose, shimmers with blue, green and lavender hues. Hand made in the damask tradition with a contemporary feel, this rug is the perfect compliment to any decor. Imported.

Hand-spun wool & bamboo viscose, hand-tufted. Color: Blue.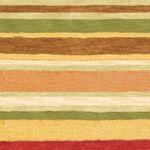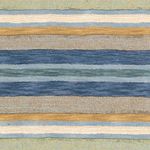 Our Sheffield Stripe hand-tufted area rug features alternating stripes of bold hues and subdued neutrals. Made in India.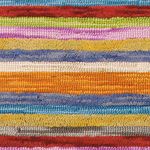 Hand tufted of 100% wool, our Jubilee rug is a kaleidoscope of color and texture. This area rug's colorful mix of horizontal stripes and subtly circular patterns is accented by strips of tufted wool felt for texture to enliven any room. Made in India.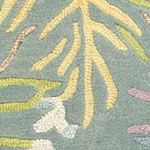 Artisanally hand tufted, our To Bay Go rug comes to textural life via chunky high-twist wool yarns and intricate embroidery. Marine flora set against a sea-colored ground on this area rug brings an under-the-sea paradise into your home, and a costal tropical feel to any room. Made in India.

Hand-tufted of bamboo viscose, our Lotus rug features oversized blooms, a neutral palette, and brings luxurious shine to your special spaces. Soft underfoot, this area rug delivers a well-dressed look perfect for a bed room or living room. Made in India.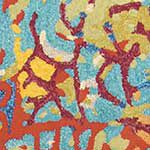 Our Melange hand-tufted area rug features an abstract over-scaled pattern and an explosion of colors. This area rug is a modern mix accented by the subtle texture of cut and loop pile construction, and a perfect addition to any living room or bedroom. Made in India.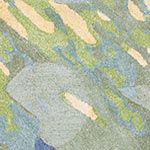 Our Reflections area rug is the winning submission to our Design-a- Rug Contest. Interior Designer Liz Hause based her triumphant design on an image she snapped from an airplane window reflecting sky, water, and the land below. Hand made of tufted and cut loop bamboo viscose pile, this rug looks three dimensional and is feels luxuriously soft. Imported.

100% Hand-spun bamboo viscose, hand-tufted cut and loop pile. Color: Multi.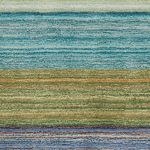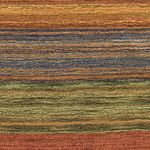 Our hand-made Brushstroke rug comes alive on a canvas of hand-tufted pure wool, and is enlivened by a melange of muted colors and a painterly design. Made in India.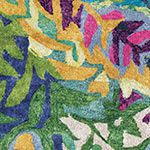 Our Galleria hand-tufted rug was inspired by dazzling murano glass. Hand made of bamboo-viscose yarns, this flowing paisley area rug is drenched in layer on layer of saturated color. Pair with our coordinating Galleria pillow. Imported.

100% Hand-spun bamboo viscose, hand-tufted, cut pile. Color: Multi.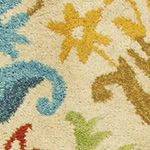 $395.00 - $2,995.00
$276.50 - $2,096.50
A true modern damask, our Hayden hand-tufted rug features a classic design in bold color, the over scaled pattern of this area rug perfect in any environment. Classic with a twist, Hayden features a signature Company C color infusion and coordinates with many palettes. Made in India.