refine by

1' x 1' Sample

(46)

2'6" x 8'

(47)

3' x 5'

(23)

4' x 6'

(41)

4'6" x 6'6"

(10)

5' x 8'

(42)

6' x 9'

(8)

7' Round

(3)

8' x 10'

(41)

8' x 11'

(6)

9' Round

(3)

9' x 13'

(41)

10' x 14'

(6)

$199.99 and Under

(46)

$200.00-$499.99

(20)

$500.00-$999.99

(47)

$1,000.00-$2,499.99

(46)

$2,500 and above

(44)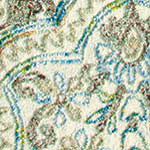 Our Agra rug is hand tufted, and features a multi-colored looped design set against an ivory background. This artisanal hand-crafted area rug is a modern interpretation of classic tapestry design, and pairs perfectly with both solids and patterns. Made in India.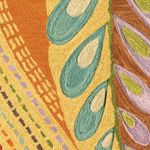 Our pure wool Art and Soul rug is hand-tufted, and a true statement piece. Multitextural, Art and Soul features hand-hooked ands embroidered elements for a stunning visual addition to any room while lending an artsy one-of-a-kind look. Made in India.

Hand-tufted of bamboo viscose, our Lotus rug features oversized blooms, a neutral palette, and brings luxurious shine to your special spaces. Soft underfoot, this area rug delivers a well-dressed look perfect for a bed room or living room. Made in India.

Our Peyton rug is hand tufted of pure wool, and is highlighted by a peppy color palette. This hand-made rug's ornamental pattern enlivens any space, and is specially washed for additional eye-catching appeal. Made in India.

In a delicious celebration of the color green, gorgeous Sassafras trees with their swooping greenish yellow flowers create the perfect spot of shade for both classic and modern decor. Hand tufted, in varying shades of loop pile lends tons of texture while the beautiful, washed effect adds a sophisticated, completely unique appeal. 100% wool, hooked and tufted. Made in India.

A modern interpretation of art history's most beloved flower explodes with color and texture thanks to five types of yarn and three distinct techniques including hand-tufting, hand hooking and embroidery. There's even a bit of bamboo yarn for a hint of shine. Quite the masterpiece to behold-and a wonderful way to bring light and color into the home. Wool and bamboo viscose with novelty yarns. Made in India.

Our hand-tufted Echo rug is a modern geometric rendered in subtle pastels featuring high-to-low cut and looped construction for texture. Pure wool paired with bamboo viscose for added shine and luxurious softness lend a well-dressed look to this area rug, the perfect piece for your special spaces. Made in India.



A wonderful modern geometric featuring glorious Company C color, this hand-tufted loop pile rug is the perfect complement to any style. Crafted of 100% handspun bamboo viscose for shine and elegance, this versatile rug will immediately add luxurious softness and a well-dressed feel to a special living room or bed room. Made in India.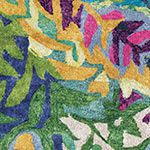 Our Galleria hand-tufted rug was inspired by dazzling murano glass. Hand made of bamboo-viscose yarns, this flowing paisley area rug is drenched in layer on layer of saturated color. Pair with our coordinating Galleria pillow. Imported. 100% Hand-spun bamboo viscose, hand-tufted, cut pile. Color: Multi.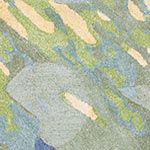 Our Reflections area rug is the winning submission to our Design-a- Rug Contest. Interior Designer Liz Hause based her triumphant design on an image she snapped from an airplane window reflecting sky, water, and the land below. Hand made of tufted and cut loop bamboo viscose pile, this rug looks three dimensional and is feels luxuriously soft. Imported. 100% Hand-spun bamboo viscose, hand-tufted cut and loop pile. Color: Multi.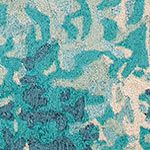 Our Looking Glass hand-tufted rug features a gradation of colors from light to dark. Hand made of bamboo viscose for shimmer and shine, this rug is luxuriously soft and designed for your dressy and special spaces. Imported. 100% Hand-spun bamboo viscose, hand-tufted loop pile. Color: Lake.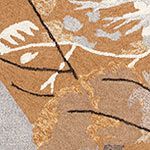 Hand tufted of variegated and mottled wool, yarns our Hickory area rug is a wonderful neutral that celebrates the splendor of nature. The design is highlighted by on-trend toffee's, greys, and black. Imported. 100% Wool, hand-tufted, loop pile. Color: Pewter.