refine by

1' x 1' Sample

(20)

2' x 3'

(14)

2'6" x 8'

(23)

3' x 5'

(16)

3'6" x 5'6"

(1)

4' x 6'

(12)

4'6" x 6'6"

(4)

5' x 8'

(20)

6' x 9'

(4)

7' Round

(2)

8' x 10'

(20)

8' x 11'

(4)

9' Round

(2)

9' x 13'

(16)

10' x 14'

(4)

$199.99 and Under

(24)

$200.00-$499.99

(17)

$500.00-$999.99

(23)

$1,000.00-$2,499.99

(20)

$2,500 and above

(10)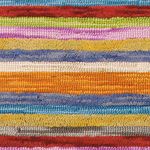 Hand tufted of 100% wool, our Jubilee rug is a kaleidoscope of color and texture. This area rug's colorful mix of horizontal stripes and subtly circular patterns is accented by strips of tufted wool felt for texture to enliven any room. Made in India.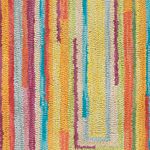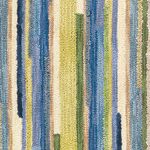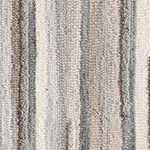 Hand tufted of 100% wool, our Concentric Squares rug features wide strips of pure merino wool for texture, and bold colors. A reproduction of an antique, this hand-made area rug is a perfect addition to either contemporary or traditional decor. Made in India.


Our Dandelion pure wool rug features hand-tufted construction, with accents of hand-hooked wool for texture creating a landscape of color, and a soft modern look. Made in India.

Our River Bend rug is hand tufted of 100% wool, and features cut and loop pile construction for added texture. This area rug has a winding feel, and was inspired by a Panamanian mural design from The Girard Collection, Museum of International Folk Art, lending a geometric worldly look to any room. Made in India.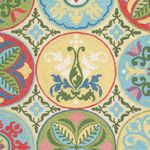 Our hand-hooked Stepping Stones 100% wool rug features an all-over geometric pattern. This ever-popular area rug comes in a pastel-soft palette, and a spicy warm alternative to accentuate any interior. Imported.

Overscale ikat- and paisley-inspired motifs lend an exotic air to this rug painted in oceanic blues. The ground is composed of variegated shades of blue subtly blended to give the effect of rippling water. The monochromatic motifs, in tufted wool enriched with texture, shade from silvery blue to cerulean to navy. Made in India.

Round up! Overlapping rings drawn from the whimsy of the classic hula-hoop appear with playful drama on our pure wool rug. The dense pile is looped offering tons of texture as well as inimitable softness underfoot. Imported.

The denim blue color of this medallion-patterned rug adds a nautical vibe to any environment. Bonus: Hand-hooked with sturdy polypropylene yarns, the rug can be hosed off to clean and won't fade in the bright summer sun. Imported.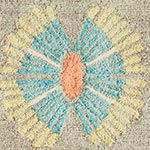 Fan Favorite. The lovely geometric pattern of this fetching rug blends bright and neutral color schemes, with orange, soft yellow, and aqua over a driftwood ground. Place it in a high traffic area to let its versatility and beauty shine bright. Hand-hooked of durable eco friendly jute in a lovely loop-pile technique. Made in India.



$545.00 - $4,295.00
$130.00 - $1,150.00
A wonderful modern geometric featuring glorious Company C color, this hand-tufted loop pile rug is the perfect complement to any style. Crafted of 100% handspun bamboo viscose for shine and elegance, this versatile rug will immediately add luxurious softness and a well-dressed feel to a special living room or bed room. Made in India.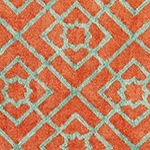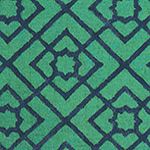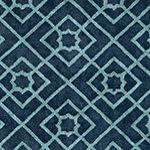 We call this our "goes anywhere and with everything" rug as its fresh, geometric pattern adapts to any surrounding from classic to modern (and everywhere in between). Hand tufted in three contemporary colors and featuring a hand-serged trim (in contrast shades) for extra pop underfoot. Rendered in jute, favored for its strength is just right for any traffic, any season. Made in India.

Our hand-tufted Echo rug is a modern geometric rendered in subtle pastels featuring high-to-low cut and looped construction for texture. Pure wool paired with bamboo viscose for added shine and luxurious softness lend a well-dressed look to this area rug, the perfect piece for your special spaces. Made in India.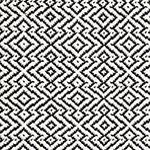 Mirroring classic tile flooring, our striking pattern in crisp black and white lends boldness and style indoors-or out. Hand-woven of 100% polyester made from recycled plastic bottles and finished with a lovely, diamond shaped, deco-inspired border. Made in India.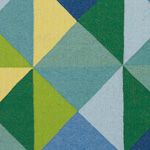 $72.00 - $495.00
$30.00 - $202.00
Diamonds are a floor's best friend, especially when hand woven in a cool blue palette with pops of yellow and navy. The optical illusion effect wakes up any space and lends a fun graphic element to neutral areas. Crafted of polyester yarns derived from recycled plastic bottles, this indoor/outdoor gem is as good for you as it is for the earth. Made in India.

Rustic and reminiscent of classic wool blankets, our Winnipeg rug features chunky, un-dyed wool yarns hand tufted in a dense loop pile. Vibrant bands of color in a cut-pile construction lend a refreshing twist to classic chevron-and a serious graphic punch in modern or contemporary spaces. Made in India.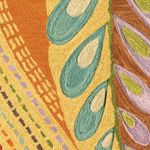 Our pure wool Art and Soul rug is hand-tufted, and a true statement piece. Multitextural, Art and Soul features hand-hooked ands embroidered elements for a stunning visual addition to any room while lending an artsy one-of-a-kind look. Made in India.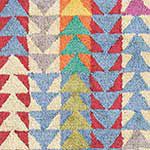 Our hand-tufted Vintage Quilt jut rug was inspired by an antique quilt, and features a boldly graphic design drenched in saturated colors. This area rug features a dense loop-pile construction which is tip sheared for extra texture, and the perfect accent to traditional or modern decor. Made in India.

Perfectly imperfect, our Basket Case rug is inspired by a vintage piece where each colorful stripe was crafted from an assortment of scrap fabric creating a woven border of random symmetry. Expertly hooked by hand of 100% wool, tie-dyed yarns in a basket weave pattern surrounding a botanical pattern pulled straight from an artist's sketchbook. Imported.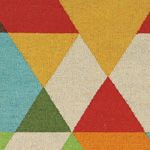 Genuine geometry makes modern art in this multicolored masterpiece for the floor. Hand woven of polypropylene derived from recycled plastic bottles, this indoor/outdoor rug will brighten up anything anywhere, especially neutrals like teak and canvas. Add to your deck, or heavily trafficked indoor area for an instant eye-catching makeover. Made in India.

The contemporary art technique of dripping paint directly from can to canvas is borrowed here to fashion our bespoke work of art for the floor. Hand hooked using tie-dyed yarns which lend even more creative splash to the spice-hued piece. Wow! 100% wool. Imported.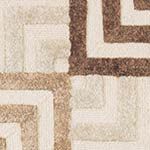 A modern masterpiece, our graphic Squared-Off rug showcases a beautiful background crafted of undyed wool in a loop-pile technique and mesmerizing square motifs rendered in viscose tufted pile for extra dimension and texture. Made in India.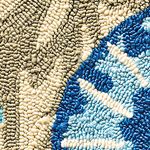 With hints of ocean breezes and salt air, these blues mixed with aqua and driftwood mingle together to create this soothing seaside view. Imported.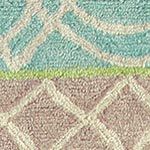 Not one, not two, but three contrasting patterns combine to equal an appealing geometric that's modern, traditional and absolutely stunning. Rendered in shades of aqua, spring green and driftwood on 100% eco-friendly jute using a lovely, loop-pile technique. The surface of this rug is "tip sheared" to create variation in the color from light to darker shades. Made in India.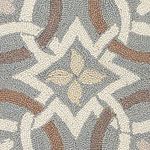 Hand hooked of 100% wool, our Sandstone rug features a subtle-yet-striking palette of pewter, ivory, driftwood and slate. This area rug's design was inspired by marble tile-work found in a Far Eastern temple and is a sophisticated accent to any decor. Imported.