refine by

1' x 1' Sample

(18)

2' x 3'

(13)

2'6" x 6'

(1)

2'6" x 8'

(24)

3' x 5'

(13)

3'6" x 5'6"

(3)

4' x 6'

(15)

4'6" x 6'6"

(5)

5' x 8'

(21)

6' x 9'

(5)

7' Round

(2)

8' x 10'

(21)

8' x 11'

(4)

9' Round

(2)

9' x 13'

(16)

10' x 14'

(4)

$199.99 and Under

(25)

$200.00-$499.99

(15)

$500.00-$999.99

(24)

$1,000.00-$2,499.99

(19)

$2,500 and above

(13)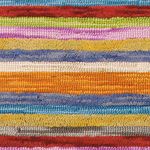 Hand tufted of 100% wool, our Jubilee rug is a kaleidoscope of color and texture. This area rug's colorful mix of horizontal stripes and subtly circular patterns is accented by strips of tufted wool felt for texture to enliven any room. Made in India.

Classic, sexy leopard is reinvented in playful, preppy pinks and greens. The background color of aqua or green is ombre-shaded from dark to light, creating a subtle stripe of lighter color down the center. It's tufted with a high-twist wool yarn for texture and spots of viscose for a hint of shimmer. Made in India.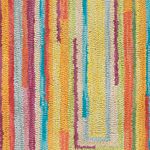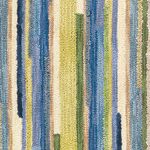 Hand tufted of 100% wool, our Concentric Squares rug features wide strips of pure merino wool for texture, and bold colors. A reproduction of an antique, this hand-made area rug is a perfect addition to either contemporary or traditional decor. Made in India.


Our Dandelion pure wool rug features hand-tufted construction, with accents of hand-hooked wool for texture creating a landscape of color, and a soft modern look. Made in India.

Our River Bend rug is hand tufted of 100% wool, and features cut and loop pile construction for added texture. This area rug has a winding feel, and was inspired by a Panamanian mural design from The Girard Collection, Museum of International Folk Art, lending a geometric worldly look to any room. Made in India.

The eclectic, otherworldly sundew flower looks much like the color-bursts on this rug, with their dewdrop-like halos. Blossoms of coral, yellow, blue and green pop on the deep crimson background. Imported.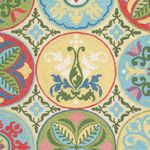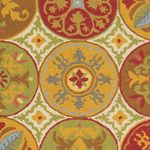 $98.00 - $3,110.00
$98.00 - $3,110.00
Our hand-hooked Stepping Stones 100% wool rug features an all-over geometric pattern. This ever-popular area rug comes in a pastel-soft palette, and a spicy warm alternative to accentuate any interior. Imported.

Overscale ikat- and paisley-inspired motifs lend an exotic air to this rug painted in oceanic blues. The ground is composed of variegated shades of blue subtly blended to give the effect of rippling water. The monochromatic motifs, in tufted wool enriched with texture, shade from silvery blue to cerulean to navy. Made in India.


$89.00 - $1,995.00
$89.00 - $1,995.00
Round up! Overlapping rings drawn from the whimsy of the classic hula-hoop appear with playful drama on our pure wool rug. The dense pile is looped offering tons of texture as well as inimitable softness underfoot. Imported.

A feast for the senses. An inviting geometric pattern takes center stage between a medallion border on each end. Crafted of pure wool and washed just after tufting to lend this glorious rug a lustrous patina and hand. Made in India.

The denim blue color of this medallion-patterned rug adds a nautical vibe to any environment. Bonus: Hand-hooked with sturdy polypropylene yarns, the rug can be hosed off to clean and won't fade in the bright summer sun. Imported.

We found inspiration for this serene stunner in the not-quite-night hues of a crisp evening sky. Hand tufted in oversized loops using super-chunky 100% wool yarns in soft, diffused shades of Aqua, Lake, Green and Ivory which shimmer against a backdrop of midnight blue. A true-blue beauty that works equally well in contemporary or classic spaces. 100% wool, hooked and tufted. Made in India.