refine by

2' x 3'

(29)

2'6" x 6'

(6)

2'6" x 8'

(23)

3' x 5'

(9)

3'6" x 5'6"

(15)

5' Round

(2)

5' x 8'

(24)

7' Round

(2)

8' x 10'

(24)

9' Round

(2)

$199.99 and Under

(29)

$200.00-$499.99

(24)

$500.00-$999.99

(24)

$1,000.00-$2,499.99

(2)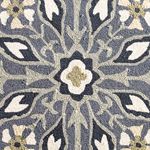 Meet Pierre, a sophisticated-yet-never-stuffy character who shines bright thanks to his striking pattern that's as modern as it is classic. Oh and his demure color palette of pewter, charcoal, driftwood and cream had us at hello, or shall we say bonjour. Imported.

Inspired by a beautiful, exuberant watercolor done with a loose, painterly hand, we created this easy-care rug using mottled yarns, which help evoke the look of watercolor brush strokes. The bright pinks, oranges and reds of the roses are set off by the bright aqua ground and yellowy-green leaves. The perfect complement to an outdoor space or sunroom, it carpets the floor or patio in blossoms. Imported.

The eclectic, otherworldly sundew flower looks much like the color-bursts on this rug, with their dewdrop-like halos. Blossoms of coral, yellow, blue and green pop on the deep crimson background. Imported.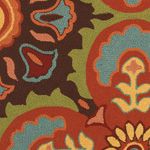 Inspired by the motifs on colorful Talavera pottery from Mexico, this rug enlarges upon a beautiful quatrefoil tile pattern in shades of terracotta, chocolate, lime green, orange, and turquoise. Color: Espresso. 100% polypropylene; indoor/outdoor rug. Imported.. Each ColorSpree rug is hand-hooked with 100% polypropylene yarns for durability. Water and mildew resistance make our ColorSpree rugs great for porches, patios, mudrooms, kitchens or entryways. Imported.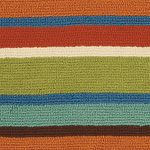 The bright, cheery stripes of beach umbrellas and espadrilles on the Cote D'Azur are summer personified. Stripes are a classic that can go modern or traditional, weaving together a whole palette of colors or brightening up neutrals like teak and canvas. Imported.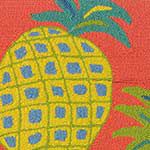 As you can see, we're passionate for pineapples?in our cocktails?and on our floors! So, we tossed the festive fruit all over our colorful rug, added a vibrant coral ground to lend fun, tropical energy in any space you place it. Hooked with 100% polypropylene yarns?perfect for indoor or outdoor use. Yum! Imported.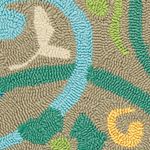 The intricate tile work that is so captivating in Morocco is adapted in this sophisticated rug, which pairs cool spa blues with driftwood and touches of green, yellow and ivory. Imported.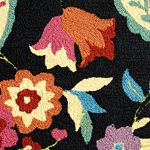 Inspired by vintage botanical illustrations, we cultivated a vibrant garden of perennial favorites against a rich, black ground. A blue ribbon winner in any horticultural show, and a great way to celebrate the spectacle of nature. Imported.

The denim blue color of this medallion-patterned rug adds a nautical vibe to any environment. Bonus: Hand-hooked with sturdy polypropylene yarns, the rug can be hosed off to clean and won't fade in the bright summer sun. Imported.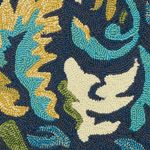 Margie is a beautiful, overscaled damask-inspired medallion colored in saturated blues and greens-perfect for seaside, poolside or patio. Imported.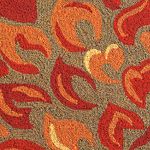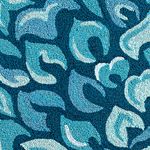 The brilliance of leaves and flowers bursting to life is sure to pack a playful punch in any setting. Rendered in an unexpected palette of persimmon and gold against a field of taupe. Imported.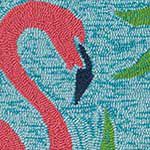 Inspired by a favorite symbol of summer, our pretty flamingos will infuse your home with a serious splash of whimsy. Drenched in pinks, greens (even a splash of navy) against a two-toned aqua background. Hooked of 100% polypropylene yarns, marled for even more textural appeal. A versatile choice for indoor or outdoor use. Imported.