refine by

1' x 1' Sample

(11)

2' x 3'

(9)

2'6" x 6'

(3)

2'6" x 8'

(14)

3' x 5'

(6)

3'6" x 5'6"

(3)

4' x 6'

(8)

4'6" x 6'6"

(5)

5' Round

(2)

5' x 8'

(11)

6' x 9'

(4)

7' Round

(4)

8' x 10'

(11)

8' x 11'

(4)

9' Round

(3)

9' x 13'

(8)

10' x 14'

(4)

$199.99 and Under

(14)

$200.00-$499.99

(11)

$500.00-$999.99

(14)

$1,000.00-$2,499.99

(11)

$2,500 and above

(7)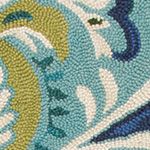 The thick, soft, loop-pile construction of Adele bring the colorful beauty of the outside into your home. Yarns are tie-dyed, lending a hand-painted impression to this wonderful work of art. Imported.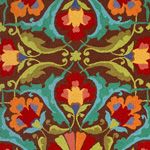 This beautifully colored round rug evokes the delicacy and elegance of Chinese ginger jars and hand-painted porcelain bowls. Its unusual palette and distinctive motifs make this hooked rug a work of art. Imported.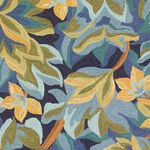 Lush vegetation and bountiful flowers create a secret garden for the senses. This rug has the refined look of needlepoint. Imported.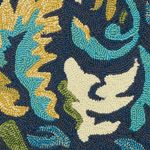 Margie is a beautiful, overscaled damask-inspired medallion colored in saturated blues and greens-perfect for seaside, poolside or patio. Imported.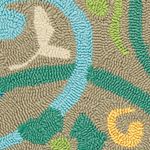 The intricate tile work that is so captivating in Morocco is adapted in this sophisticated rug, which pairs cool spa blues with driftwood and touches of green, yellow and ivory. Imported.

$3,545.00 - $4,450.00
$1,063.50 - $4,450.00
Ferns and flowers, silhouetted like pressed specimens or botanical illustrations, come to life against a dark brown ground. The flowers are hooked in a variety of yarns, including textured, tie-dyed and mottled yarns, giving them tactile richness. This stunning rug's background is made from natural, undyed wool, so its color will have slight variations. Made in India.

Like an enchanting kaleidoscope or magnificent mosaic tile floor, the Tara rug marries a floral medallion pattern with vivid color and three-dimensional texture. The motifs are raised in a chunky hooked wool, while the cream background is hooked in a lower, tighter loop. In shades of orange, red and leaf green with pops of turquoise, this is a feast for the eyes. Imported.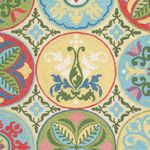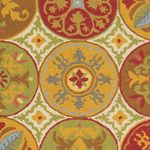 Pull up a chair and see what's cooking. Our popular Stepping Stones rug comes in very pretty pastels- coral, sun, lake and spring green, but is also updated with a dash of fall flavor. Nutmeg, cinnamon, and ginger tones mingle to create a spicy, delicious mix. Imported.


Though they originated in India, the intricate swirls, teardrops and rich colors of paisley were adopted and adapted so long ago by the British that paisleys are now firmly rooted in English country style. We've taken that timeless motif and reinterpreted it in a boldly overscaled design that's looser, more artistic, and colored in appealing shades of Lapis blue, Moss green, spice red, and golden Dijon. This tufted wool rug incorporates slightly mottled yarns for a greater sense of movement and depth. Made in India.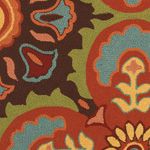 Inspired by the motifs on colorful Talavera pottery from Mexico, this rug enlarges upon a beautiful quatrefoil tile pattern in shades of terracotta, chocolate, lime green, orange, and turquoise. Color: Espresso. 100% polypropylene; indoor/outdoor rug. Imported.. Each ColorSpree rug is hand-hooked with 100% polypropylene yarns for durability. Water and mildew resistance make our ColorSpree rugs great for porches, patios, mudrooms, kitchens or entryways. Imported.

Overscale ikat- and paisley-inspired motifs lend an exotic air to this rug painted in oceanic blues. The ground is composed of variegated shades of blue subtly blended to give the effect of rippling water. The monochromatic motifs, in tufted wool enriched with texture, shade from silvery blue to cerulean to navy. Made in India.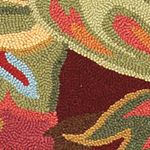 Reminiscent of elegant tapestries hanging in the Louvre. Sensuous colors bloom on a lavish background. Imported.