refine by

1' x 1' Sample

(10)

2' x 3'

(6)

2'6" x 8'

(10)

3' x 5'

(6)

4' x 6'

(2)

4'6" x 6'6"

(9)

5' x 8'

(1)

6' x 9'

(10)

7' Round

(1)

8' x 10'

(1)

8' x 11'

(9)

9' Round

(1)

9' x 13'

(1)

10' x 14'

(7)

$199.99 and Under

(11)

$200.00-$499.99

(7)

$500.00-$999.99

(11)

$1,000.00-$2,499.99

(10)

$2,500 and above

(8)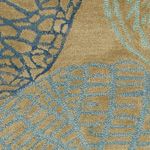 The intricate veins and delicate ribs of gingko and eucalyptus leaves waft across our Monterey rug, enriched with textures of tufted, hooked, and high-twist wool yarns. Lagoon blends blues, aquas and greens on a sand ground; Terracotta showcases oranges, corals and greens against a deeper mocha ground. Made in India.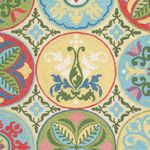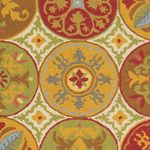 Pull up a chair and see what's cooking. Our popular Stepping Stones rug comes in very pretty pastels- coral, sun, lake and spring green, but is also updated with a dash of fall flavor. Nutmeg, cinnamon, and ginger tones mingle to create a spicy, delicious mix. Imported.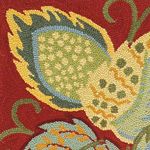 Sometimes you just need to put down your rake and marvel at Mother Nature's splendor. Create a cozy setting for any room with fanciful fall leaves scattered across a rich, chili-colored background. Imported.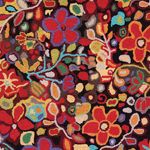 Black provides a dramatic backdrop for the fanciful presentation of dazzling flowers, vines, and pebbles. Inspired by an antique hooked rug, this garden jumble is timeless, yet up-to-date. Imported.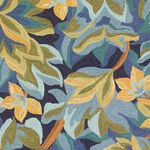 Lush vegetation and bountiful flowers create a secret garden for the senses. This rug has the refined look of needlepoint. Imported.

Inspired by Panamanian mola, this rug has a winding, textural feel. From the Girard Collection, Museum of International Folk Art, Santa Fe. Made in India.

Like an enchanting kaleidoscope or magnificent mosaic tile floor, the Tara rug marries a floral medallion pattern with vivid color and three-dimensional texture. The motifs are raised in a chunky hooked wool, while the cream background is hooked in a lower, tighter loop. In shades of orange, red and leaf green with pops of turquoise, this is a feast for the eyes. Imported.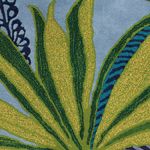 The lush, tropical flowers and foliage of Floridian islands inspired this dramatic, overscale floral, colored in gorgeous, happy hues. The mix of hooked and tufted wool, in high-twist yarns and mottled colors, gives the rug great texture and dimension. Made in India.

Plaid feels fresh and modern blown up to a scale that makes a strong graphic statement in this flat weave rug, yet It's still rooted in comfort and familiarity.. The intersections of vibrant color create different variations within each check. This rug marries well with both the Lapis and Dijon colorways in the Devonshire design. Made in India.


Though they originated in India, the intricate swirls, teardrops and rich colors of paisley were adopted and adapted so long ago by the British that paisleys are now firmly rooted in English country style. We've taken that timeless motif and reinterpreted it in a boldly overscaled design that's looser, more artistic, and colored in appealing shades of Lapis blue, Moss green, spice red, and golden Dijon. This tufted wool rug incorporates slightly mottled yarns for a greater sense of movement and depth. Made in India.


A soft, modern look with incredible texture. Hooked yarns accentuate this tufted rug to create a landscape of color you can actually feel. Made in India.