refine by

1' x 1' Sample

(13)

2' x 3'

(31)

2'6" x 6'

(6)

2'6" x 8'

(27)

3' x 5'

(18)

3'6" x 5'6"

(11)

4' x 6'

(10)

4'6" x 6'6"

(4)

5' Round

(4)

5' x 8'

(24)

6' x 9'

(5)

7' Round

(6)

8' x 10'

(24)

8' x 11'

(4)

9' Round

(5)

9' x 13'

(9)

10' x 14'

(3)

$199.99 and Under

(31)

$200.00-$499.99

(29)

$500.00-$999.99

(28)

$1,000.00-$2,499.99

(13)

$2,500 and above

(3)

Bold medallions in varied hues of blue elevate Lisette from floor covering to conversation piece just like that. Accented with yellows, greens, even a hint of purple, the over-scaled pattern pops against a contrast border. A work of art that transitions beautifully from one season to the next. Imported.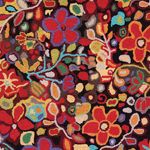 Black provides a dramatic backdrop for the fanciful presentation of dazzling flowers, vines, and pebbles. Inspired by an antique hooked rug, this garden jumble is timeless, yet up-to-date. Imported.

$98.00 - $2,250.00
$58.80 - $1,350.00
Like an enchanting kaleidoscope or magnificent mosaic tile floor, the Tara rug marries a floral medallion pattern with vivid color and three-dimensional texture. The motifs are raised in a chunky hooked wool, while the cream background is hooked in a lower, tighter loop. In shades of orange, red and leaf green with pops of turquoise, this is a feast for the eyes. Imported.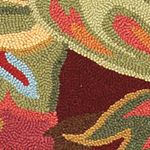 Reminiscent of elegant tapestries hanging in the Louvre. Sensuous colors bloom on a lavish background. Imported.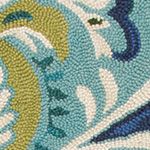 $89.00 - $1,995.00
$89.00 - $1,995.00
The thick, soft, loop-pile construction of Adele bring the colorful beauty of the outside into your home. Yarns are tie-dyed, lending a hand-painted impression to this wonderful work of art. Imported.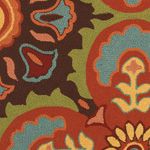 Inspired by the motifs on colorful Talavera pottery from Mexico, this rug enlarges upon a beautiful quatrefoil tile pattern in shades of terracotta, chocolate, lime green, orange, and turquoise. Color: Espresso. 100% polypropylene; indoor/outdoor rug. Imported.. Each ColorSpree rug is hand-hooked with 100% polypropylene yarns for durability. Water and mildew resistance make our ColorSpree rugs great for porches, patios, mudrooms, kitchens or entryways. Imported.

The eclectic, otherworldly sundew flower looks much like the color-bursts on this rug, with their dewdrop-like halos. Blossoms of coral, yellow, blue and green pop on the deep crimson background. Imported.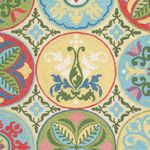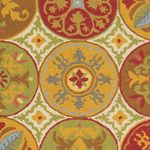 Pull up a chair and see what's cooking. Our popular Stepping Stones rug comes in very pretty pastels- coral, sun, lake and spring green, but is also updated with a dash of fall flavor. Nutmeg, cinnamon, and ginger tones mingle to create a spicy, delicious mix. Imported.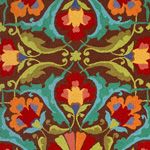 This beautifully colored round rug evokes the delicacy and elegance of Chinese ginger jars and hand-painted porcelain bowls. Its unusual palette and distinctive motifs make this hooked rug a work of art. Imported.


$89.00 - $1,995.00
$89.00 - $1,995.00
Round up! Overlapping rings drawn from the whimsy of the classic hula-hoop appear with playful drama on our pure wool rug. The dense pile is looped offering tons of texture as well as inimitable softness underfoot. Imported.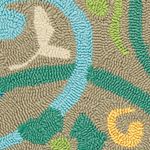 The intricate tile work that is so captivating in Morocco is adapted in this sophisticated rug, which pairs cool spa blues with driftwood and touches of green, yellow and ivory. Imported.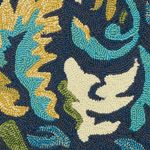 Margie is a beautiful, overscaled damask-inspired medallion colored in saturated blues and greens-perfect for seaside, poolside or patio. Imported.